Prof. Dr. Stefan Arnhold, JUSTUS-LIEBIG UNIVERSITY, GIESSEN-GERMANY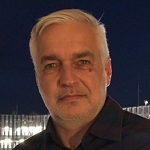 Academic Education
Study of Veterinary medicine at the Justus-Liebig-University (JLU) Giessen, National Examination / Approbation (1990).
January 1993 – April 2004 Scientific assistant at the Institute of Anatomy I, University of Cologne
1996 Promotion Dr. med. vet University of Giessen
2002 Habilitation in the areas of Veterinary-Anatomy, -Histology and -Embryology at the Department of Veterinary Medicine of the JLU Giessen
2005 Promotion Dr. rer. medic. University of Cologne
Professional and academic career
1993 PhD Student, Department of Anatomy I, University of Cologne
1997 Postdoctoral fellow, Department of Anatomy I, University of Cologne
2004 Lecturer in Human Anatomy
May 2004 – September 2007 Assistant Professor at the Institute of Anatomy I, University of Cologne
since 2007 Full Professor for Functional Veterinary Anatomy, JLU Giessen
2010-2016 Dean of Study Affairs, Faculty of Veterinary Medicine, JLU Giessen
Research areas
Investigation of the pluripotency of mesenchymal stem cells.
Transplantation of autologous stem cells for an experimental therapy in neurodegenerative diseases.
Investigation of the migration potential of mesenchymal stem cells.
Comparison of stem cell populations of various species,
Prof. Dr. Hüsnü Can Başer, NEAR EAST UNIVERSITY, TRNC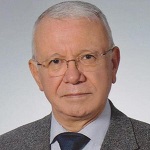 Pharmacist
Professor of Pharmacognosy
Ph.D.: University of London, Chelsea College (Now, King's College) , Pharmacognosy (1978)
Associate Professor: Anadolu University (1981)
Full Professor: Anadolu University (1987)
Dean: Anadolu University Faculty of Pharmacy (1993-2001)
Founding Director: Anadolu University Medicinal and Aromatic Plant and Drug Research Centre (TBAM) (1980-2002)
Formerly  Head of the Department of Pharmacognosy at Faculty of Pharmacy, Anadolu University (1978-2011).
Head, Pharmacognosy at the Department of Pharmacognosy, Faculty of Pharmacy, Near East University, Nicosia, N. Cyprus (2016-)
Director, Graduate Institute of Health Sciences, Near East University, Nicosia, N. Cyprus (2017-)
Other duties:
President of the International Council for Medicinal and Aromatic Plants (ICMAP) (2008-2014); Vice-President (2014-)
President of the Academy of Pharmacy of the Turkish Pharmacists' Association (TEB) (2008-2012)
Expert of Group 13B (Herbal drugs) and Traditional Chinese Medicine (TCM) Working Party of the European Pharmacopoeia, represents Turkey at the European Pharmacopoeia Commission (1995-2012)
Board Member, International Society for Medicinal Plant and Natural Product Research (GA) (2009-2013)
Member, WHO (World Heath Organization) Expert Advisory Panel on Traditional Medicine (2007-)
Research interests:
General: Research into botanical, ethnobotanical, chemical, technological, aspects and biological activities of medicinal and aromatic plants, and biotransformation of flavours and fragrances
Specific:  Essential oils and alkaloids
Awards:
Distinguished Service Medal by IFEAT (International Federation of Essential Oils and Aroma Trades), 1995, Istanbul
Memorial Silver Medal, Scientific Partnership Foundation, Moscow, 2003, Tashkent, Uzbekistan
Academician Award, Pharmacy Awards 2004
Rotary International Centennial Success in Career Special Award, Rotary Turkey, 2005
Science Award, Academy of Pharmacy of the Turkish Pharmacists Association 2005,
Science Award (Health Sciences), Scientific and Technological Research Council of Turkey (TUBITAK), 2005
Science Award, Society of Contemporary Journalists, 15 January 2006, Eskisehir, Turkey
Science Award (Health Sciences) (2008), Popular Science Magazine, 22 February 2009, Ankara, Turkey
City Lights Award (Eskisehir-2011), com, 17 February 2012, Eskisehir, Turkey
Medal, ISHS (International Society for Horticultural Science) 20 August 2014, Brisbane, Australia
James A. Duke Excellence in Botanical Literature award by American Botanical Council for his co-edited book with G. Buchbauer "Handbook of Essential Oils 2nd Edition" in March 2017.
His name appeared in the 35th rank among the "100 Turks Guiding Science" book published by Sanko Holding in May 2017.
Scientific papers:
Author of over 766 research papers in peer-reviewed journals and over 1005 communications in 286 national and international symposia. He has published 1032 scientific contributions as papers, books, book chapters. His 5 books have been published in Turkey, Japan, UK and USA (2).   His H-index is 59 (Google Scholar); 40 (SCI)
Prof. Dr. İhsan Çalış, NEAR EAST UNIVERSITY, TRNC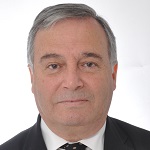 İhsan ÇALIŞ received his BS degree from Ankara University, Faculty of Pharmacy in 1972. He got his Ph.D. degree from Hacettepe University Institute of Health Sciences Pharmacognosy Program in 1978. In 1982 – 1983, he continued his post-doctoral studies at Swiss Federal Institute of Technology Zurich (ETH-Z), Department of Pharmacy (Institute of Pharmaceutical Sciences), Pharmacognosy and Phytochemistry Divison, in the frame of a research fellowship program supported by Swiss National Science Foundation. In 1983 and 1988, he was appointed as Associated Professor, and, Professor at Hacettepe University, respectively. He served as the Chairman of the Department of Pharmacognosy at Faculty of Pharmacy, Hacettepe University in 1986 – 2000. Under his supervision, ten Master of Science thesis (MSc) and eight Doctorate Thesis (Ph.D.) were completed in the Pharmacognosy Program. He co-refereed eight dissertation studies abroad (Switzerland and Germany). Between 1986 – 2005, he conducted studies in Switzerland (1986 – 2002. ETH-Z) and Germany (2004: Friedrich-Schiller University Jena; 2005: Regensburg University), and was invited as a guest researcher for three months every year. He has refereed many scientific journals, and is the member of scientific societies. He is among the founding members of Turkish Pharmacists' Association (TEB) Academy of Pharmacy and Faculty of Pharmacy at Near East University (NEU). He is also founder of the Graduate Institute of Health Sciences at NEU. Currently, Prof. Dr. Çalış is the dean of the Faculty of Pharmacy at NEU. His research interests include isolation and structural elucidation of natural products which can be leading compounds in the drug discovery studies. He has elucidated over 300 new compounds as a result of his scientific studies. He has published around 200 research articles in international refereed journals. He was awarded "Hacettepe University 1998-1999 Academic Year Science Award" and "2001 The Scientific and Technological Research Council of Turkey (TUBITAK) Science Award in the field of Health Sciences." He has been an elected member of the Science Academy since 2013.
Prof. Dr. Fatih Demirci, ANADOLU ESKISEHIR UNIVERSITY TURKEY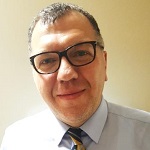 He graduated from Anadolu University, Faculty of Pharmacy, as Pharmacist in 1992. He earned his MSc at the University of East Anglia, School of Chemical Sciences in Norwich, UK, in 1995. He fulfilled his PhD in 2000, and one year later he promoted as Assistant Professor at the Faculty of Pharmacy in Anadolu University. Thereafter, during 2001-2003 he worked as a postdoc in Regensburg University at the Institute of Pharmacy, Department of Pharmaceutical Biology, in Germany. Later after is military service he was appointed as full Associate Professor of Pharmacognosy in Anadolu University in 2005. He was appointed as full Professor in the same Institution in 2010. He served first as Deputy, and then as Director until end of 2014 at the Graduate School of Health Sciences, Anadolu University. He served as the founding Dean of the Faculty of Health Sciences 2014-7.
He has more than 125 published research papers with more than 1600 citations (SCI H-index: 20). More than 150 presentations in national and international symposia and meetings. He edited and wrote more than 20 book chapters and serves in editorial boards of various national and international journals. He is co-founder and co-director of the SME Badebio Biotechnology Ltd. since 2009. He is married and has a son. He is fluent both in German and English.
Prof. Dr. Münis Dündar, ERCİYES UNIVERSITY, TURKEY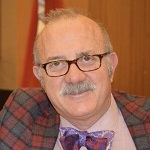 He was born May 2, 1961. He completed His primary and high school education In Kayseri and took the undergraduate degree at Erciyes University, School of Medicine in 1985. He made Ph.D. on Medical Genetics at Duncan Guthrie Institute of Medical Genetics, University of Glasgow/Scotland in 1994.
He completed Medical Genetics Specialisation at Osman Gazi University in 1996. He Received professor title in 2003. He is founder and Head of Medical Genetics Department at Erciyes University. He took part as project coordinator and assistant investigator in many Research projects and many prepared articles Published in international journals. He was A lecturer at Perugia University/Italy, European University Consortium, Job Creation Oriented Biotechnology for first level degree And master program students, between 2006 – 2010. He is former president of the Turkish Medical Genetic Society. He is President of The European Biotechnology Thematic Network Association and  board member of "European Society of Human Genetics" .
Prof. Dr. George El Fakhri, HARVARD MEDICAL SCHOOL, USA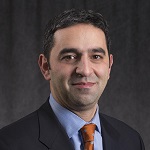 Dr. El Fakhri is a Professor of Radiology at Harvard Medical School and the Director of the Massachusetts General Hospital (MGH) Gordon PET Core, Co-Director of the Division of Nuclear Medicine and Molecular Imaging. Dr. El Fakhri is the founding Director of the Gordon Center for Medical Imaging (GCMI) and is an internationally recognized expert in quantitative SPECT-CT, PET-CT, and PET-MR. Dr. El Fakhri has pioneered novel approaches to compensate for many of the physical factors (e.g., scatter, attenuation, motion, PSF) affecting quantitative SPECT and PET (Contributions 3,4) and objectively assessing the achieved improvement in image quality, specifically in PET oncologic, neurologic and cardiac imaging as well as in the development of novel approaches to quantitative cardiac and brain modeling (Contribution 3). Dr. El Fakhri developed the early kinetic modeling, parametric imaging and quantitative framework for Rb-82 cardiac perfusion imaging and validated measured absolute myocardial blood flow in dog studies as well as in human studies with N-13 ammonia. Dr El Fakhri and his team have also demonstrated the feasibility of simultaneous rest-stress perfusion PET as well as direct estimation of kinetic parameters and more recently patented a novel approach to measuring membrane potential with PET (Contribution 1). For the past 19 years, Dr. El Fakhri has mentored 29 undergraduate and graduate students, 37 post-doctoral fellows and 20 faculty, many of whom are now successful researchers in the field of medical imaging with 5 R01s, 4 Ks and 4R21s currently awarded to faculty mentored by Dr El Fakhri's Lab at MGH alone. Directly pertinent to this grant application, Dr. El Fakhri has pioneered MR-based motion compensation (including reconstruction and registration components) and MR anatomical priors in PET/MR as well as a unified framework for pharmacokinetic/pharmacodynamics of PET and MR when acquired simultaneously. His work has resulted in over 160 peer-reviewed papers and funding from NIH and HHMI. As Director of the MGH Gordon PET Core (40 staff) and Founding Director of the Endowed Gordon Center (140 scientists), Dr El Fakhri has the experience in running complex clinical research operations and closely collaborating with radiologists, cardiologists, neurologists, oncologists and radiation oncologists.
Prof. Dr. Osman Eroğul, TOBB ECONOMICS & TECHNOLOGY UNIVERSITY, TURKEY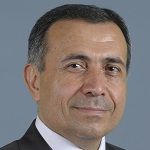 Received his BSc degree from the Electrical-Electronics Engineering Department of Military Academy, MSc degree from the Department of Electrical-Electronics Engineering of Middle East Technical University and PhD degree from the Department of Electronics Engineering of Ankara University. He was the head of Biomedical Engineering Centre, and Medical Design and Manufacturing Centre in Gülhane Military Medical Academy (GATA). He also worked as a research scientist in Communications Research Centre (Ottawa / Canada). He has training certificates from USA, Germany, Holland and Japan for the maintenance and repairment of Computed Tomography, Digital Angiography and Magnetic Resonance Imaging Systems.
 
 
He is currently the head of Biomedical Engineering Department and director of Graduate School of Natural and Applied Sciences in TOBB University of Economics and Technology. He is also part time lecturer in Electrical and Electronics Engineering Department of Ankara University.
He has also been designated as the representative of Turkey for the Medical Applications of KT Forum in CERN.
Author has many scientific papers, books, book chapters and patents on medical devices.
Current Research Areas :  Physiological signal and speech processing , sleep signals processing, medical image processing, design and manufacturing of custom made implants, additive manufacturing, medical technology management, quality assurance system, radiation physics.
Prof. Dr. İnan Güler, GAZI UNIVERSITY, TURKEY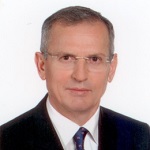 Dr. İnan GÜLER was graduated from Erciyes University, Department of Electronics Engineering in 1981. He took his M.Sc from Middle East Technical University, Department of Electrical and Electronic Engineering in 1985 and his Ph.D from Istanbul Technical University, Department of Electronics and Communication Engineering in 1990. In 1988-89, he conducted part of his PhD research at Leicester University – Department of Medical Physics and Clinical Engineering in England. He started to work at Department of Electronic Engineering in Erciyes University as a Research Assistant, than he appointed as Assisstant Professor to same department in 1991. He became Associate Professor in 1993 and full Professor in 1999 at Gazi University. He has more than 250 refeered publications related with biomedical instrumentation, biomedical signal and image processing, artificial intelligence in medical applications. He completed 27 research projects, including two patents and 5 Eurepean Union-supported projects. He supervised 26 Ph.D Dissertation and more than 80 M.Sc thesis in different universities.
Prof. Dr. Nesrin HASIRCI, MIDDLE EAST TECHNICAL UNIVERSITY, TURKEY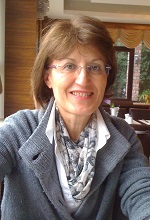 Professor Nesrin Hasirci is working in Chemistry Department of METU, Ankara, Turkey. Her research area is concentrated on Biomaterials and Tissue Engineering applications of polymers and composites; use of nano and micro technology for the preparation and modification of the materials; examination of surface-cell interactions. Her works covers the synthesis and preparation of polymers, controlled and targeted micro nano drug delivery systems, novel bone cement compositions, enzyme immobilizations matrices, dental and bone supporting materials.
Prof. Hasirci has more than 200 publications and most of them are scientific papers published in refereed and indexed journals. She has 16 chapters in scientific books, 3 edited book and 6 patents (2 approved, 4 pending). Prof. Hasirci has attended more than 450 congress, conferences and symposia, and gave more than 50 social seminars to either public communities or to high schools. She organized or been in the organization committees of conferences and workshops on 'Biomaterials and Tissue Engineering' subjects.
Prof. Hasirci supervised more than 40 Master and 20 Ph.D. theses all related to biomaterials, their synthesis, modifications and composite formations specific to solve some medical problems of soft and hard tissue and organs.
Prof. Hasirci worked as Head of some newly established Graduate Departments. She is the establisher and the first Head of the Graduate Department of Biomedical Engineering, and have been the Head of the Graduate Department of Biotechnology two times at different periods. She also administered as Vice Chairman of the Chemistry Department in 1990s. In the years of 1994-1995, she had been at Massachusetts Institute of Technology (MIT), Department of Chemical Engineering, Cambridge, USA, as Visiting Professor granted by Fulbright Commission and worked in Prof. Robert Langers' Lab.
Prof. Hasirci is a member of numerous scientific Societies, such as European Society of Biomaterials, Tissue Engineering and Regenerative Medicine Society, Controlled Release Society, Turkish Biomaterials and Tissue Engineering Society, Turkish Polymer Science and Technology Society, Turkish Chemical Society, Turkish Fulbright Alumni Association, etc. She is also member of the Steering Committee of Medical Industry Group of OSTIM.
Prof. Hasirci is a member of the 'Science Academia'. She received 'Science Award' given by M. Parlar Foundation and 'Technology Award' given by Elginkan Foundation in the year of 2015. She also received the University Awards (given in every year to the successful scientists of the previous year) since 2001 in every year. Five Ph.D. theses she conducted or been as co-supervisor has received 'The Best Thesis of the Year Award' given by the Institute of the Natural and Applied Sciences, and by Parlar Foundation of the University. Some of her students who presented their studies in different Conferences received 'The Best Presentation or Best Poster Award's.
Prof. Hasirci refereed manuscripts submitted to National and International Journals, as well as National and International projects. Some of the journal she was reviewer can be counted as: Acta Biomaterialia, Applied Surface Science, Biomacromolecules, Biomaterials, Biomedical Materials, Int. J. of Nano and Biomaterials, Journal of Applied Polymer Science, Journal of Bioactive and Compatible Polymers, Journal of Biomaterials Applications, Journal of Biomaterials Science-Polym. Edn., Journal of Biomedical Materials Research, Journal of Materials Science, Macromolecules, Materials Science and Engineering, Nanotechnology, Pharmaceutical Development and Technology, Polymer, Polymers for Advanced Technologies, Surface and Coatings Technology, Tissue Engineering.
She is a member of the ESF Pool of Reviewers, and has been as reviewer in FP-6 and FP-7 EU, COST and ERA-EuroNanoMed projects.
Prof. Dr. Vasıf Hasırcı, MIDDLE EAST TECHNICAL UNIVERSITY, TURKEY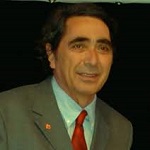 Dr. Vasif Hasirci is a chemist and an expert in biomedical, biotechnological and nanotechnological applications of natural and synthetic polymers. He is the Founding Director of the Center of Excellence in Biomaterials and Tissue Engineering at the Middle East Technical University (METU) and the President of the Biomaterials and Tissue Engineering Society (Turkey). He serves on the Editorial Boards of several journals including "Biomaterials; Nanomedicine; and J. Biomaterials Science: Polymer Edition, Regenerative Biomaterials" among others. He has published more than 200 SCI journal papers, has 4100 citations and a h-index of 41 (WoS). He has 5 patents and/or patent applications, supervised 47 M.S. and 21 Ph.D. students.  He is a Fellow of the Science Academy (Turkey), the International College of Fellows of Biomaterials Science and Engineering (FBSE), and the Royal Society of Chemistry  (FRSC) (UK); and a member of European Society for Biomaterials (ESB), American Chemical Society, and Turkish Chemistry Society.
Prof. Dr. Oğuz Okay, ISTANBUL TECHNICAL UNIVERSITY, TURKEY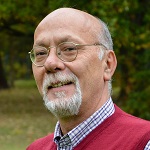 Oguz Okay is currently a full Professor of Physical Chemistry at Istanbul Technical University and a principal member of The Turkish Academy of Sciences (TÜBA). He received B.S. and M.S. degrees in Chemical Engineering from the University of Istanbul in 1977 and a Ph.D. in Polymer Chemistry in 1981 at Vienna Technical University, Austria.
He was visiting professor at the University of Stuttgart, Technical University of Dresden, University of Colorado, Boulder, Technical University of Clausthal, and Helmholtz Zentrum Berlin. He is the recipient of several awards including Georg- Forster Research Award from Germany (2015), the Turkish Scientific and Technological Research Council (TÜBITAK) Science Award (2005), Turkish Chemical Society Honorary Member Award (2006), Alexander von Humboldt Research Fellowship (1988), and Sedat Simavi Natural Sciences Award (1995). He is editorial board member of Turkish Journal of Chemistry, one of the series editors of Advances in Polymer Science.
His research expertise includes design/synthesis of soft and smart polymeric materials. His laboratory has been leading contributors in the areas of macroporous polymer gels, reactive microgels, hydrogels, supramolecular materials, and rubber elasticity. He has 4 patents and published more than 170 scientific papers in peer-reviewed journals. His H-index (GS) is 47 with about 8000 citations.
Prof. Dr. Nazmi ÖZER, NEAR EAST UNIVERSITY, TRNC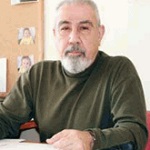 Educational carrier : He graduated as chemist (BSc, 1968) from Middle East Technical University and did his MSc (1971) in Molecular Biology and PhD in the Department of Biochemistry, Faculty of Medicine of Hacettepe University (in 1974). He became associate professor in 1979, medical specialist in clinical chemistry in 1982 and professor in 1988. Under his supervision eight MSc, Eleven (3 as co-supervisor) PhD were completed.
He received several awards; DFG, 1974; TUBITAK, 1985; FEBS, 1986; NATO-senior level USA, 1987 and UK, 1993; DPT, 1992; NOVARTIS Research Award, 1999-2000.
Administrative carrier : President of Refik Saydam NCL of Turkey (1994-1996); Medical Education Coordinator (2008-2014); Medical Biochemistry Department Head, Member of Graduate School EC (2008-) and Member of University Senate (2013-), TBS (1977-), FEBS (1977-), IUBMB (1977-), EFLM (1997-), IFCC (1997-), BCLF (1997-), WASPaLM, (2013-). TBS Secretary General (1977-1990) and president (1990-2000 and 2002-2015), Vice President of FEBS (2007, 2017) and President (2008, 2018). President of IFCC WORLDLAB2014 (2014).
Editorial membership : Owner of Turk J Biochem (1990-2016); Biochemistry and Pharmacology : Open Access; EBM of "Excerpta Medica", "Current Topics in Biophysics", "Turk Hijyen Dergisi",  "Turkish Journal of Biology", "Turkish Journal of Medical Research" and "Medical Journal of Ankara Hospital".
Prof. Dr. Mehmet Şengün ÖZSÖZ, NEAR EAST UNIVERSITY, TRNC
Dr. Mehmet Özsöz is Professor of Biomedical Engineering at the Near East University , TRNC. Currently, Dr. Özsöz is the dean of the Faculty of Engineering at NEU.
He received his BS in Chemical Engineering Department from the Middle East Technical University , and received his PHD in Analytical Chemistry at Faculty of Pharmacy ,Ege University .He did his postdoctoral research at the New Mexico State University, USA with the supervisor Dr. Joseph Wang. He has been as visiting scientist at New South Wales University in Australia and Lancaster University in UK.
He is recipient of The Scientific and Technological Research Council of Turkey (TUBITAK) Science Award in 2008. His h factor is 46 and has more than 150 research articles in international refereed journals.
Özsöz's research studies have been focused on electrochemical DNA biosensors ,drug-DNA interaction, lateral flow analysis , foodborne pathogen detection and mutation-related disease detection. He is also developing novel electrochemical biosensors for microRNA detection based on voltammetric and impedimetric techniques for more than five years. He has been working recently Crispr Cas 9 systems for the application of biosensor.
Prof. Dr. Nedime Serakıncı, NEAR EAST UNIVERSITY, TRNC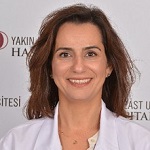 Prof. Dr. Nedime Serakıncı, Head of the Near East University Centre of Excellence, Genetics and Cancer Diagnosis-Research Centre, Faculty of Medicine, Head of Departments of Medical Genetics, North Cyprus.
Prof. Dr. Nedime Serakıncı, completed her undergraduate degree in biology at İstanbul University in 1992. She received her Master's degree at Division of Internal Medicine, Çapa Faculty of Medicine, Istanbul University in 1993 and continued onto Faculty of Medicine with a special student status. She completed her PhD at Department of Medical Biology and Genetics in Marmara University, Turkey and Human Genetics Aarhus University Denmark. She established 'Stem cell and Gene Therapy' division at the Institute of Human Genetics at Aarhus University with the funding from various projects.
Prof. Serakıncı's besides medical genetics he research interested is in mesechymal stem cell biology, cancer and telomere/telomerase biology. In 2003, she became an associate professor in the field of Medical genetics and received another associate professorship in her second field of interest, aging and stem cell genetics, in 2007. She received professorship in the fields of medical genetics and stem cell genetics in 2011.
Her research expertises are in Medical Genetics, telomerase-immortalized mesenchymal stem cells and their use in gene therapy and development of tissue models for drug discovery.
Prof. Dr Serakıncı's research program is focused on the molecular, cellular and developmental biology of the adult mesenchymal stem cell. The principle aim of the program is to develop strategic and technical approaches necessary to acquire an understanding of the mechanisms underlying stem cell self-renewal and differentiation processes.
She is the Chairperson of the Centre of Excellence and the head of the Molecular Biology and Genetics Department within the Faculty of Arts and Sciences and Department of Medical Genetics within the Faculty of Medicine and Medical Genetics and Cancer Diagnosis and Research Centre at the Near East University Hospital in 2011.
Prof. Dr. Fazilet Vardar Sükan, SABANCI UNIVERSITY, TURKEY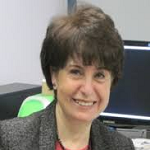 Fazilet VARDAR SUKAN is a Professor at Sabanci University, Faculty of Engineering and Natural Sciences and Director of SUNUM Nanotechnology Research and Application Center.
She graduated from İzmir American Collegiate Institute in 1974 and subsequently received her Chemical Engineering degree from Ege University, Faculty of Engineering in 1978. She continued her studies at University College London, UK, leading to Ph.D. degree in Biochemical Engineering in 1981. She received her Associate Professorship in "Bioengineering" in 1985 and became a Professor at Ege University in 1992. She is the founding head of the Bioengineering Department at Ege University and was the head of Department between 2000-2017. She is a pioneer in the field in Turkey and is the holder of 1989 Turkish Scientific and Technological Council Incentive award in Bioengineering.
Throughout her 35 years at Ege University, she has had numerous administrative duties at different levels and has represented the University at national, regional and International platforms. She was the Director of Ege University Technology Transfer Office (EBILTEM-TTO) between 1998-2017. She currently also holds the positions of vice president of Administrative Board of Ege Technopark, vice president of USIMP Executive Board, Coordinator of EBIC-Ege (Enterprise Europe Network). She is also a member of EPO Academy Advisory Board (European Patent Office) and represents Turkey on ATTP Board (Alliance of Technology Transfer Professionals), AUTM International Committee (Association of University Technology Managers), ASTP- NAAC (Association of Science and Technology Professionals National Associations Advisory Committee) and EuKTS Board (European Knowledge Transfer Society).
She has research and teaching experience in the fields of scale-up, mass and momentum transfer in bioreactors, re-utilization of agro-industrial waste through bio-industries and R&D&I management and support. She is a referee in numerous scientific journals. Her skills and expertise as a technology Transfer professional are internationally recognised, endorsed through her RTTP Certificate (Registered Technology Transfer Professional) and EuKTS Grandfather Certificate. She has approximately 200 publications (15 research articles on R&D&I management and support) with 6 books and 23 book chapters (13 on R&D&I management and support), numerous presentations and three patent applications one of them being a PCT.
She has been involved in a total of 67 projects on bioengineering / biotechnology, R&D and innovation support, science and society, either as a coordinator, partner or researcher, supported by different national, international funds or industry; 21 of them being EU supported. Her work and contributions are internationally recognised by over 1600 citations out of which 54 are in textbooks.
Prof. Dr. H. Seda VATANSEVER, MANİSA CELAL BAYAR UNIVERSITY, TURKEY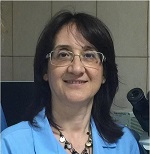 Department: Histology-Embryology
Date of Birth: 22.03.1966
Place of Birth: Mugla/Turkey
Area(s) of interest: Stem cells (both mouse and human embryonic, mesenchymal, dental etc), cancer biology and treatment (especially, colon, breast, bladder, prostate) cancer primary cell culture techniques, cancer stem cells, experimental animal models (cancer, cirrhosis, MS stroke) embryonic development, implantation biology, cell culture and properties, culture of stem cells and differentiation, 3D culture condition, 3D printing, cell death, oocyte culture, infertility, histochemistry, immunohistochemistry, immunofleurosence, western blotting, in situ hybridization, in situ PCR, miRNA analyses, SDS-PAGE electrophoresis, immunoprecipitation
Prof. Dr. Elvan Yılmaz, EASTERN MEDITERRANEAN UNIVERSITY, TRNC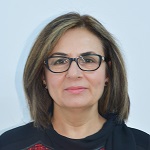 Elvan Yılmaz received her B.S., M.S., and Ph.D. in Chemistry from the Middle East Technical University in Ankara. She joined Eastern Mediterranean University in 1991 as an assistant professor. She has been serving as a faculty member in the Chemistry Department of Eastern Mediterranean University since then. She became an associate professor in 1996 and a full professor in 2003. She has supervised or co-supervised several Ph.D. and M.S. theses and published articles in internationally acknowledged scientific journals. In collaboration with her colleagues and graduate students, she has been carrying out research focused on the preparation and characterization of chitin and chitosan based modified polymer systems for biomedical and environmental applications.
Prof. Dr. Marina Yurievna Yazykova, SAMARA NATIONAL RESEARCH UNIVERSITY, RUSSIA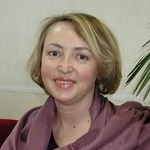 MARINA  YURIEVNA YAZYKOVA is a professor at Samara National Research University . During the first part of her career as a PhD  and D.Sc. in Moscow State University she focused her interests on protein   engineering and engineering enzymology. In this context, she was performing  studies on NAD-dependent dehydrogenases, autophosphorylation of lactate dehydrogenase, its interaction with skeletal muscle and other proteins and investigated properties of immobilized enzyme on CNBr-activated Sepharose, role of phosphorylating and nonphosphorylating glyceraldehyde-3-phosfate dehydrogenase in an uncoupling of the processes of oxydation and phosphorylation in glycolysis, vasorelaxant and antiplatelet activity of 4,7-dimethyl-1,2,5-oxadiazolo[3,4-d]pyridazine-1,5,6-trioxide: roles of soluble guanylate cyclase, nitric oxide and thiols. In Samara National Research University she was involved in biotechnology research work aimed at megakaryocyte and platelet ex vivo production using conditioned medium as a collaborative project with the Center of Human reproduction.  Another area of research is a new strategy for surface modification of bacterial nanocellulose with antimicrobial and regenerating properties.
Dr. Chiara Batini, UNIVERSITY OF LEICESTER, ENGLAND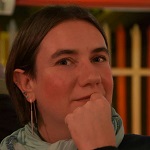 Chiara is a Research Fellow at University of Leicester and her interests focus around the genetic determinants of smoking behaviour and the genetic diversity among human populations. In this context, she is performing genome-wide association studies for smoking behaviour traits in the different ancestry groups represented in UK Biobank, analysing individuals of European, African and Asian descent and understanding the extent of overlap and differences between them. Chiara received her PhD from Sapienza University of Rome and has a background in population genetics. During the first part of her career she has been studying the role of culture and climate in the evolution of European and sub-Saharan African populations, an area of research in which she maintains active collaborative projects.